On 23 September 2011, just over two years ago, I saw a bird on the ground in a hospital parking lot. It wasn't moving. Much.

It was still breathing though. 16:05, the time of my first photo. I paused for a moment. Not sure what I was doing there, or what the point was; it was really just a coincidence that I was passing by at that time. But I paused, and stayed with the little bird for a minute or two. Its last minute or two. Very surreal, watching the little bird die. Its head slowly sagged lower and lower, until it gave a final convulsion or two and lay still, motionless.
16:07, its cheek now firmly resting on the ground. (Third photo of the above three.) Dust to dust. I couldn't just leave it there, I felt. So I picked it up, and moved it into the bushes in front of the parking spot it had occupied. I had touched death. I don't know what killed it, I made sure to go wash my hands thoroughly, just in case.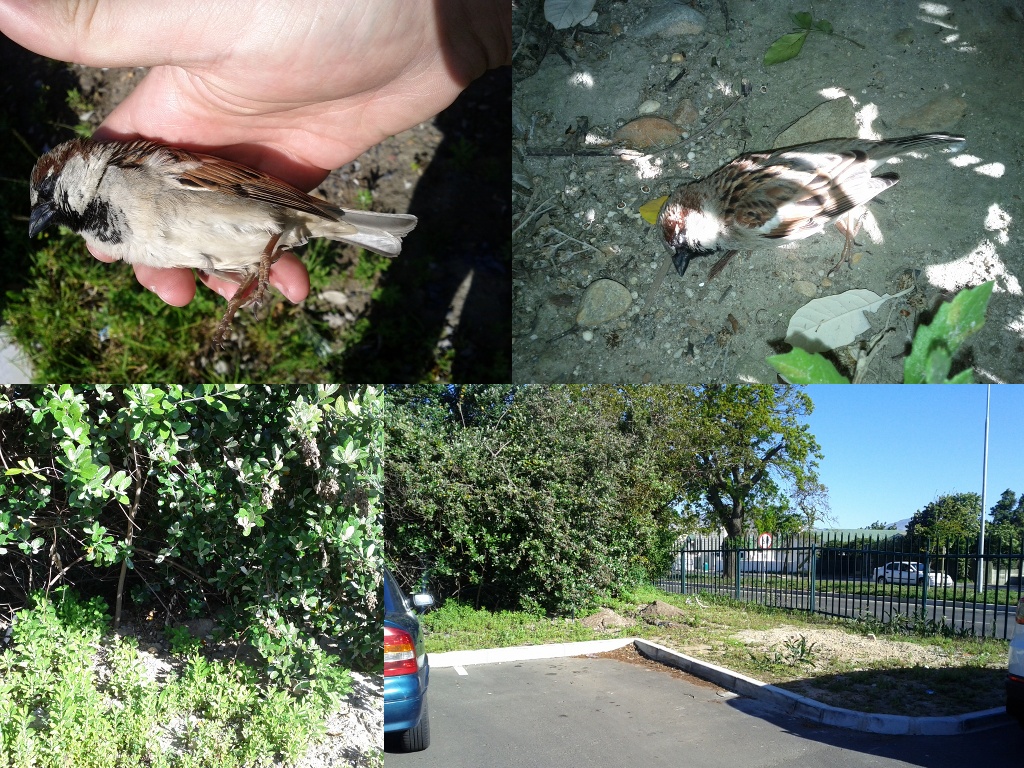 This was five days before my mother died, as cancer overwhelmed her body. In that case, you observe a loved one's breathing patterns change as the days go by. Gradually, surreally… You're left with no idea when the breathing might stop. Until it happens.
Once more, by chance, I decided to pop into her room again for a moment, after which we would head to the hospital cafeteria to grab a bite to eat for dinner. Again I was just in time to notice yet another breathing pattern change. I immediately rushed outside to call the others in, and it proved to be the right instinct, moments later her breathing simply stopped.
Surreal, like I said. What do such moments mean? What is the significance of a last breath?
In such instances I'm very much an existentialist: we create meaning, we assign meaning. We found it meaningful to be there, in those last moments, because we decide it is meaningful. The human is a social animal, we try to find support in each other during rough times. We fear dying alone. So much so that we personify other species, that it tears at our heartstrings to think of a lonely little sparrow, dying alone in a parking lot, observed by no-one, by nothing.
If chance or fate plays along, someone may stop for a moment and observe. And be moved. And find meaning in remembering. Perhaps even write a song.