– the title of this Savage Chicken cartoon: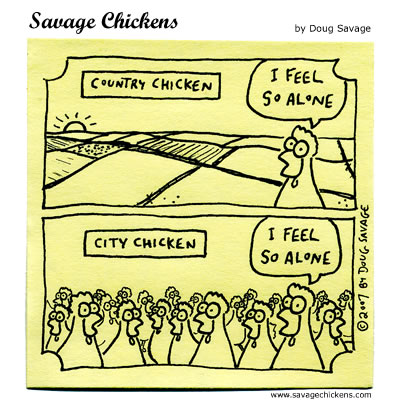 Loneliness is not a lack of people around you, it is the lack of a deeper "connection". Loneliness is the human condition… the need for connection a basic human need. We are social creatures.
Whether it is merely the by-product of human intellect and the search for meaning, a naturally selected trait that drives procreation, or a sign of our divorce from the "great connectedness" or "God", is not particularly relevant. It is true that for some, religion helps soothe the loneliness. For others, the opposite holds.
We develop all kinds of new ways to get and stay connected, and yet, the disconnection still plagues our society. I couldn't dare make claims about whether it has gotten worse or better, do we know enough about the past to make that kind of deduction? It does seem obvious that this aspect of the human condition will always plague humanity?